Let's change the world – but first have coffee. At this point of our article series we have to make a confession to you: all of our writing, planning and discussing would only have been half as good without a good cup of coffee. Or two. Or three and a big slice of that delicious banana bread with raspberries. So today we want to present you another location in Düsseldorf providing us with our favourite drink during numerous working sessions. A place that seduced us with its delicious cappuccinos and made us stay with its inspiring business approach: Rösterei Vier.
So in case you also care about this life-changing drink or just one of the most creative local businesses we know, keep on reading and also learn about their other projects ranging from skincare to sneakers.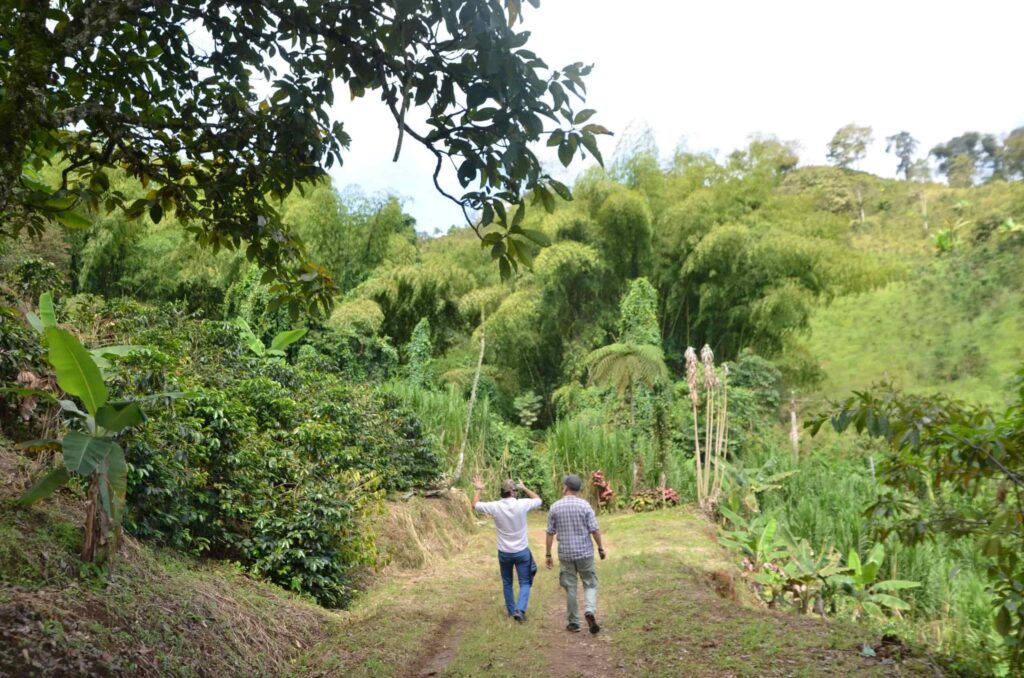 The Idea
Martin, the founder of Rösterei Vier, already had a successful food business running in Düsseldorf (Woyton), when looking for something new. Without a concrete plan in mind he was inspired when visiting one of the coffee bean suppliers of Woyton in Malawi. Why? Because he saw what a difference it makes how the coffee beans are grown – to the people, to the environment and to you, who is drinking the final result. To make it short: a huge difference. With fair wages and purchase commitments, the farmers can plan ahead, educate their staff, treat natural resources with more care and thereby harvest higher quality coffee beans. With this idea in mind Martin started in 2011 what turned out today as Rösterei Vier. The main realisation however hasn't changed: high-quality products require sustainable farming practices and great coffee tastes even better with a great story.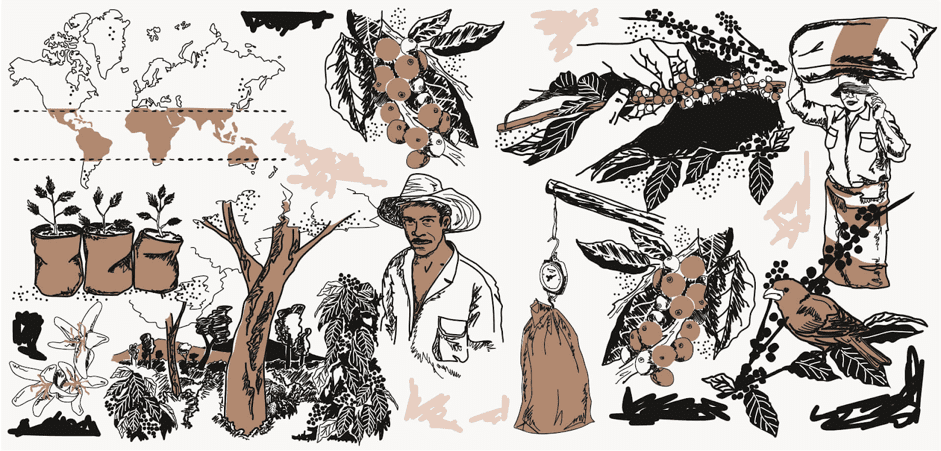 The Name
Just as our last store interview partner Valloloko – the name for Rösterei Vier has a special meaning. It stands for the four phases of the coffee making process – harvest, processing, roasting and preparation. For some beautiful illustrations of those also take a look at the four different designs on their paper cups (without any plastic coating and fully recyclable). Rösterei Vier (R4) has managed to become an expert in all of them – proven by the fact that they are even consulting big corporates on how to source their coffee. And proven by their coffee – just check it yourself.
The Products
The productsReally saying R4 would be about coffee only is not enough anymore. On the one hand because they offer a variety of drinks and delicacies which are not limited to coffee bean end products anymore. In summer you can enjoy all types of cold brewed coffee drinks and now that days got shorter, their directly sourced teas and cocoa drinks are already waiting for you. Next to that the team is involved in a project about sustainable sneakers, which are manufactured in Portugal with a closed-loop concept. What does coffee have to do with it?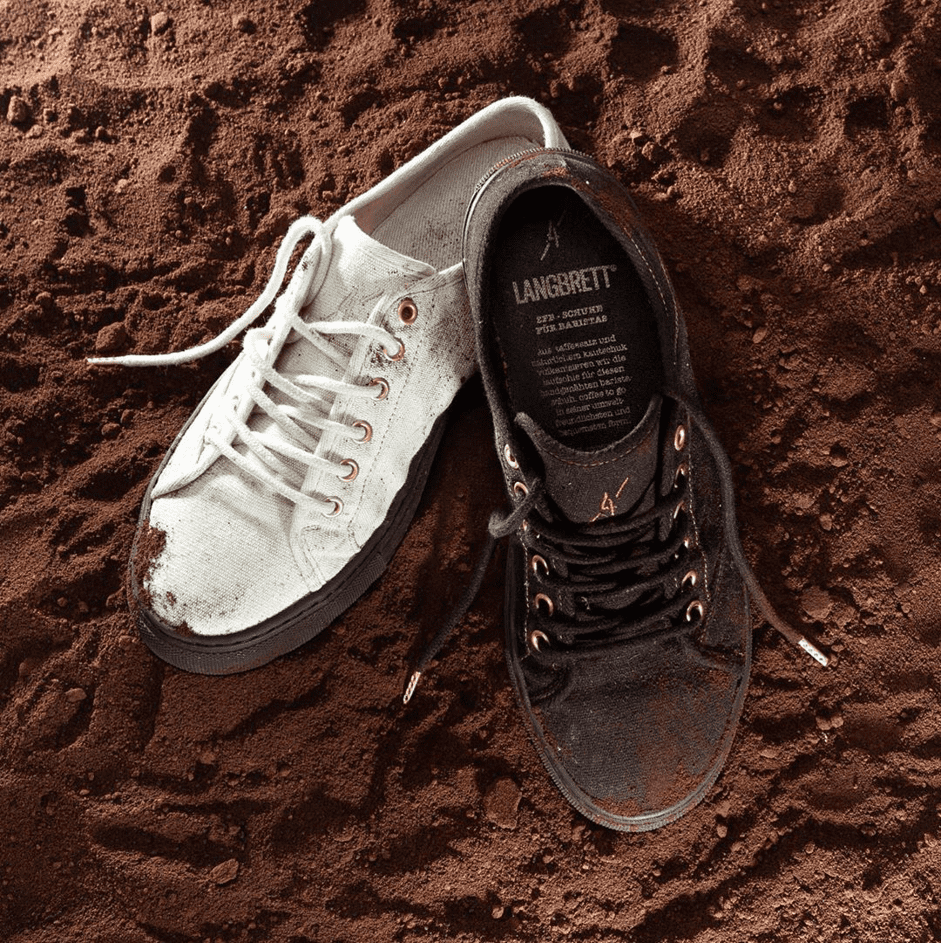 As the designers found out by coincidence – and probably after a looot of coffee – coffee ground turned out to be a perfect substitute for synthetical products in the shoe sole. That's why now 60% of the R4L's sole is consisting of coffee ground from the Rösterei Vier stores. So in case you are looking for a present for your favourite coffee lover, visit their shops and find out more about the shoes, beautiful coffee accessories and even skin cream based on coffee they offer.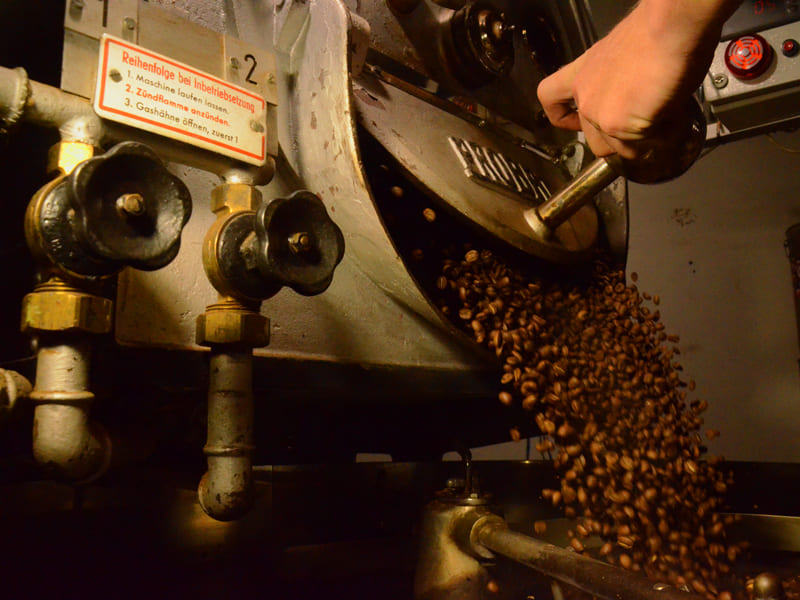 You prefer to keep it simple and rather want to give away some high-quality coffee on its own? Then their quiz might be the a cool way to find out which one is the best for you. Of course only in case you are too busy or socially awkward to just ask the present barista 😉
So after talking to Martin for a while we realized that Rösterei Vier is about an idea that was inspired by coffee, but is actually more holistic: It is about indulgence and responsibility at the same time, about taking care of your product and its impact, about constantly questioning what you do, without ever losing your humour and lightness. And this spirit, this passion for their products and care about every detail is something we can only recommend you again to experience for yourselves.
Future Plans
Another thing that impressed us, when talking to Martin was his self-criticism. Whenever we were admiring the actions the team has already taking, he reminded us, that they are still on a journey. One big challenge the team is facing on this path is credibility. Just as in other industries, more and more brands claim to be green and it is not getting easier to master the jungle of greenwashing and serious projects as a consumer. One project is therefore the renewal of an eco-lodge in Malawi, to set it up as sustainable as possible and to show guests directly where their coffee comes from and how it is produced. For everyone with a little bit less time, the roastery has also put together a beautiful magazine called Kompassion. So while sipping your flat white you can embark on a intellectual journey to their coffee farmers and read even more about their stories.
Where can I get it?
Next to the two cafés in the Altstadt – on Wallstreet and at the Markplatz – Rösterei Vier also opened 'Little Tokyo' next to the lobby of the me&all hotel. But their coffee can also be tasted at Woytons and a few other locations, as well as being ordered online. This sounds so much better to you than the stuff you are currently drinking at work? The roastery is also catering for companies with their premium coffees, so do not hesitate to get in touch.